What is the best keto pancake recipe
So for a while now there's been variations on the same keto pancake recipe floating around on the internet. I think the first place I saw some version of the "cream cheese and egg" pancake was on Melissa Sevigny's lovely recipe blog, I Breathe I'm Hungry. And there's a reason the recipe has so many fans: it's simple, it's quick, and it's tasty.
But…it isn't quite pancakes. It's pancake-like, certainly. But for me, they always came out flat like crepes and tasting just a little too much like eggs to really be a replica of the fluffy breakfast pastry I remembered from my pre-keto days.
Still, the recipe was a good starting point. With a little tweaking and a couple additions, I was able to come up with something just a little closer to the real thing.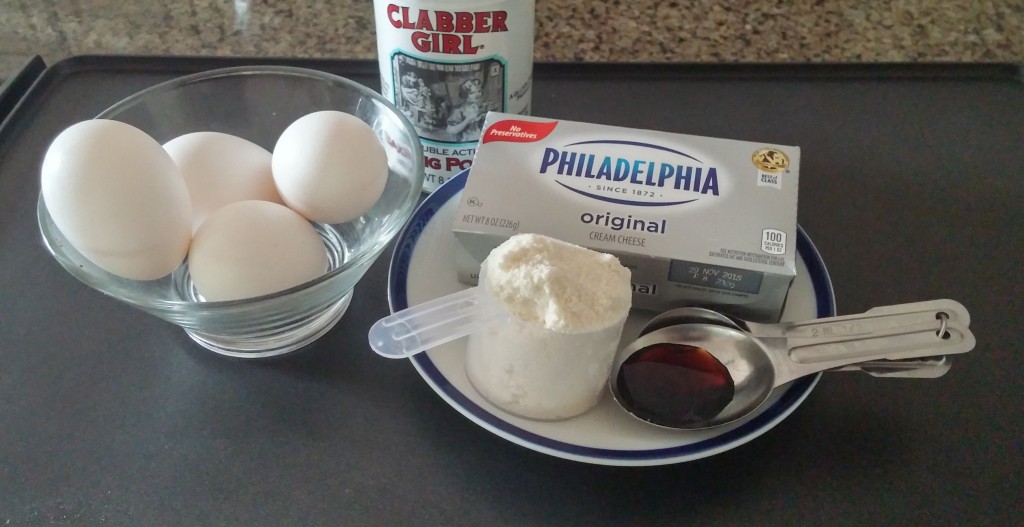 Oh, and the best part? It's still a pretty simple recipe, and it's still pretty quick to make. Just like the recipe you're used to, you just throw everything in a blender, and two minutes later your batter is ready to go. Only now the result is a lot more pancake-like: golden brown, fluffy, and slightly sweet.
The other best part? It's a flexible recipe! Add a splash of melted butter to the batter, and you can make yourself some pretty kickass keto waffles too. Add in blueberries (I heat mine with a little bit of Swerve first) and you can have blueberry pancakes. And I'm not a fan of chocolate for breakfast, but I don't see why you couldn't toss in a few low carb chocolate chips if that's your thing.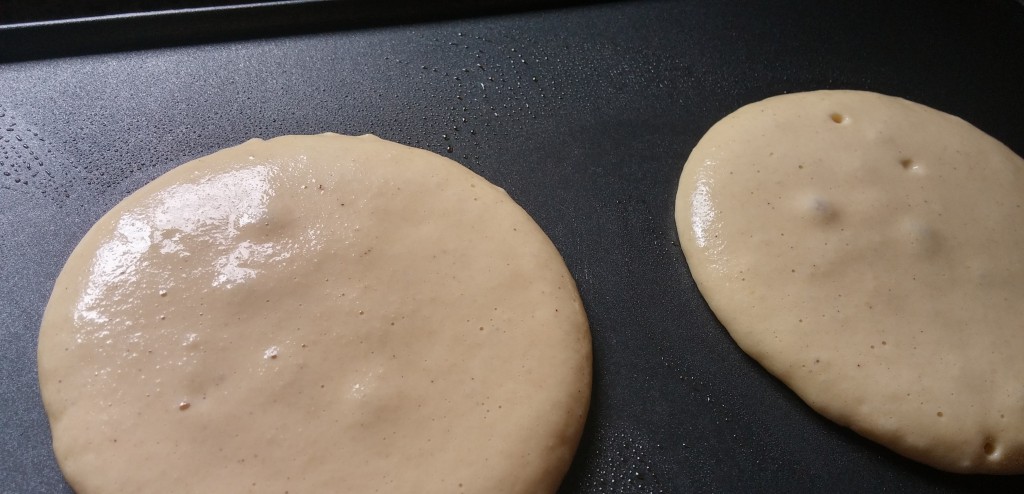 Fluffy Keto Pancake/Waffle Recipe
Prep Time:10m
Cook Time:15m
Total Time:25m
Ingredients
Batter:
4ouncescream cheese, softened
4eggs
2teaspoonsvanilla extract, or sugar free vanilla syrup
1tablespoonsugar substitute, or more to taste
4tablespoonscoconut flour
1 1/2teaspoonsbaking powder
1dashcinnamon (optional)
1/2teaspoonmaple extract (optional)
almond milk or half and half as needed
For pancakes only:
1/2teaspoonadditional baking powder
For waffles only:
1tablespoonmelted butter (optional, but recommended)
Instructions
Combine cream cheese, eggs, vanilla, sugar substitute, maple extract, and cinnamon with a blender or mixer. Add melted butter to waffle batter if desired.
Add baking powder and coconut flour, blending again until well combined.
NOTE: The matter may thicken if left to sit for more than a few minutes. If this happens, just add a splash of almond milk, cream, or half and half to thin it again.
For Pancakes:
Using an electric griddle set to 300F or a greased pan over medium heat, pour batter to form circles between 4 and 6 inches in diameter.
Flip pancakes when the edges begin to harden and the surface begins to bubble. Cook on the other side 2-3 minutes, or until golden brown.
For Waffles:
Add batter to preheated waffle iron. Cook for 5-7 minutes, or until golden brown.
Serve with butter, sugar free syrup, and/or fruit/jam.
I usually get about 4 servings from the recipe as written above, but it scales up or down very well as long as you maintain the ratios. Don't be afraid to make some extras though; the keto pancakes and waffles from this recipe aren't limited to breakfast. My personal recommendation? Toast up a pair of the waffles and make yourself a sandwich: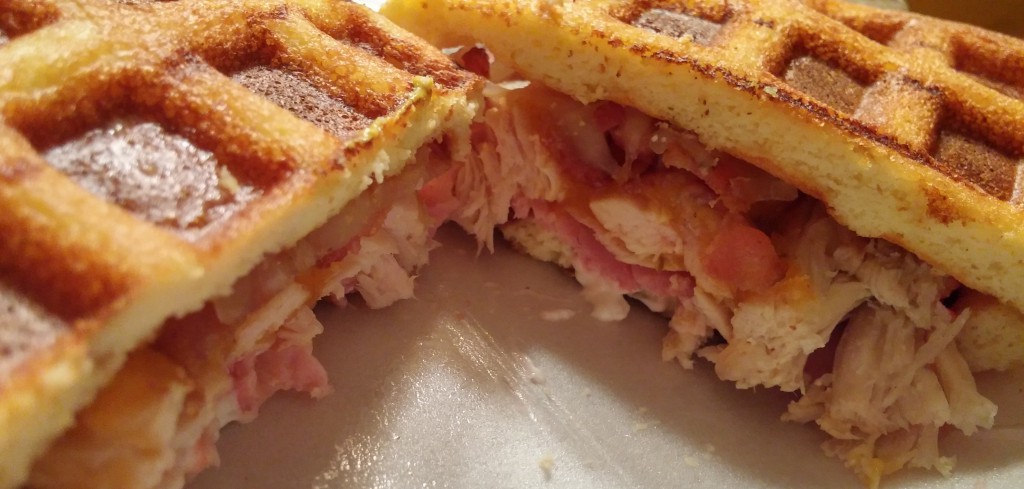 Updates/FAQ:
Wow! This recipe took off way more than I ever expected. It was one of the main motivations for starting this website way back when, since it was one of the first recipes I developed that made me feel like I needed to share it with others. Since then I've seen it be stolen/reposted by others without credit which is frustrating, but that's outweighed by the happiness I get from reading your positive comments and feedback on it! Here are some answers to frequently asked questions about my keto pancake/waffle recipe:
Can I use almond flour instead of coconut flour? Almond flour is not a direct substitute for coconut flour in any recipe, and the same is true for this low carb pancake recipe. Almond flour will not result in the same fluffiness or texture. Some commenters have reported that flax meal is a better substitute.
Can I freeze/reheat them? Yes! I would recommend reheating frozen waffles in the toaster or oven and pancakes in the microwave.
Can I use different flavoring/extracts? Absolutely! Lately, I'm a fan of making these with vanilla butternut extract. It makes them taste like diner pancakes.
Can I make them without sweetener? The sweetener is mainly for taste. If you want a savory version (for a sandwich, etc.) feel free to leave it out.
Can I make the batter ahead of time? I wouldn't recommend it. The coconut flour will cause the batter to thicken too much, and the baking powder will lose much of its rising effect.
Can I mix the batter by hand? Sure! It just takes a bit more time and effort, so I prefer to make it in a magic bullet style blender.

Other tips:
If you like your waffles crispy, spray the iron with coconut oil or another cooking spray before each waffle.
The extra almond milk/half&half is only needed if your batter is too thick, which can happen if you let it sit for too long or with certain brands of coconut flour that are a bit more absorbent than others.
Make sure your cream cheese is fully softened in order to get a smooth batter.
For a protein boost, swap out half of the coconut flour for WakeShake or another protein powder. You can get WakeShake for 10% off when you go here and use the code TKW10.
Category: Breakfast, Keto Recipes Tags: Breakfast, Recipe