What is a hindrance in tennis
It's never a good sign when the refs outshine the players, but it was particularly thorny Tuesday when, on the cusp of her epic first-round, French Open victory over Serena Williams, French star Virginie Razzano was called twice for hindrance.
Hindrance is one of the most confounding rules in the Women's Tennis Association's manual. Its mildest form, known as involuntary hindrance, results in a let call. The more baleful variety is called deliberate hindrance and costs a player a point.
Problem is, the definition of deliberate -- "any hindrance caused by a player that is ruled deliberate" -- is so vague that it can be used to include just about anything.

Until Tuesday, perhaps the most well-known hindrance call came during the finals of last year's U.S. Open, when Williams yelled "Come on!" after returning a ball that Sam Stosur had yet to hit. The chair ump, Eva Asderaki, declared the outburst deliberate and docked her a point. After Williams went on to lose 6-2, 6-3, the call -- and any legitimate debate over it -- was overshadowed by Serena's unhinged rant against Asderaki, in which she called the ump "a hater" and "very unattractive inside."
Fast forward to Tuesday, when Asderaki was in the chair for Williams' first-round match in Roland Garros. Early in the first set, the ump issued a warning to Razzano for yelling before Williams had a chance to hit a ball back. Then, when Razzano failed to quiet down enough for Asderaki, she was docked twice for hindering.
The second of the two calls came at a pivotal point, with Razzano up 5-3 in the third set and Williams charging back. And it was the most mystifying. With her legs cramping, Razzano let out a barely discernable yelp at 30-30, giving Serena a break point. The hometown favorite was able to get back to deuce, and eventually win the game, but the call raises the question of what exactly Asderaki was trying to achieve.
The appendix of the WTA's rulebook provides guidance for some situations. It states, for example, that a point should be replayed if "a player is hindered … by either an unintentional act of the opponent or something outside the player's own control." It also points out, a little curiously, that if a ball hits a bird that would be a replay.
But it says nothing about grunting, which is one of the most vexing issues in the women's game right now. In the current issue of ESPN the Magazine, I profile the world's No. 1, Victoria Azarenka, whose unfortunate nickname is "Vika the Shrieka."
Her matches with archrival Maria Sharapova are classic battles with scores of highlights. But whenever they play, fans feel as if they have to turn down the volume on their TV sets.
There is some evidence that the grunting is affecting attendance. Ian Ritchie, chief executive of the All England Lawn and Croquet Club, begged the WTA to get involved last year, saying most of the letters he gets about Wimbledon center on the issue.
But when the WTA's board of directors took up at a meeting in March in Key Biscayne, Fla. -- "We made a determination that the landscape had changed," spokesman Andrew Walker told reporters -- they ended without a plan, just a promise to keep studying the issue.
Azarenka, not unsympathetically, insists that her racket hitting sounds are involuntary. "I'm sorry people don't like it," she says. "I'm not that happy when I sit on a flight and the person next to me is snoring."
The consensus seems to be that the future lies with training the next generation of players. At Nick Bollettieri's IMG-owned tennis academy in Florida, the pros are already teaching breathing exercises to their 10-and-unders. But that doesn't do much for the present, and Bollettieri, for one, thinks it's up to the players, and no one else, to decide whether grunting is a problem.
"If a player believes that it's really a hindrance and it's really bothering their play, they have the right [to complain]," he told ESPN's Kelly Naqi for an upcoming report on "Outside the Lines."
"They may be turned down, but at least they have the right to go up. … Imagine now if you have 10, 20, 30 people starting to go up to umpires. That's where the game is played, is on the field, not in the stands."
For now, though, it's the umps who have the thankless job of regulating something that may defy regulation. It's hard to believe that Asderaki wasn't mindful of that when she issued the first hindrance call to Razzano. She clearly overreacted to the debate when she issued the second.
As a result, she wound up being as much a story as the players. That's never a good thing, and a sign that someone needs to figure out how to rewrite the hindrance rule before it happens again.
-- Shaun Assael
[+] Enlarge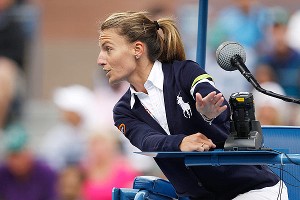 AP Photo/Charles KrupaChair umpire Eva Asderaki, who made the hindrance call against Virginie Razzano.